Wednesday, March 18, 2009
BCMM DESIGNER OF THE WEEK
COME MEET:

EBAY ID:
blueazaleahill
EBAY STORE IF YOU HAVE ONE NAME
:
Pitter Pats Purses and Things
LINK TO MY AUCTIONS
:
http://search.ebay.com/_W0QQsassZblueazaleahillQQhtZ-1
WHAT I LOVE TO SELL ON EBAY
: I love to sell my handmade items mostly. I do occasionally sell fabric, sewing notions, and ribbon to others.
HOW LONG HAVE YOU BEEN DESIGNING:
I started designing at a very young age which begun with paper dolls. We are not talking about store bought paper dolls, we are talking about handmade, blank, paper dolls cut out of paper. My grandmother taught me how to make furniture out of the pantie hose cardboard inserts for my paper dolls. Of course, I had to decorate my furniture and paper dolls.
Then my store bought baby dolls got a true fashion statement with make-shift clothing. I would cut out fabric and either tie their cloths on them with string, or hand-make their clothing with a needle and thread. Boy were they a sight to be seen, especially after I got a hold of their hair. I would give my dolls a trendy haircut. After my dolls had been to my beauty shop, dressed in the finest hand-made clothing,and a scarf, I had to show them off. Little to my surprise, my dolls did not look as good as I thought. Boy did I got in trouble from my parents for the hair cuts I gave my dolls.
To get back to a serious thought...I have designed all my life. I love every minute of the design process. I draft all of my bag patterns (handbags, children's bag, and diaper bags) myself. My bag patterns are not store purchased patterns. This makes it much easier when I get emails from potential customers requesting a certain size...I just hand-make a pattern to meet their specifications.
HOW LONG HAVE YOU SOLD ON EBAY:
I have sold on eBay over 4 years. I have made true friends at eBay. Some of my customers call me, they email me, we get Christmas cards, and even family photos of them. I consider my customers as a part of my extended family. I am so gracious for each and everyone of my customers. I love them all.
WHERE DOES YOUR INSPIRATION COME FROM
? I think most of my inspiration comes from fabrics. I not only love to sew, I also love decorating my home. I love to change my paint color on my walls, add different items of interest (knick-knacks), change my furniture around, and just pulling the whole thing together.
IF THERE WAS ONE THING YOU WOULD LOVE TO LEARN WHAT IS IT?
I would love to learn to turn more things over to the Lord and let him take over and guide me and my obstacles down the right path. I, my nature, seem to be a fixer. I want to fix things not only for myself, family, but also for others, and a lot of times, I cannot fix people's problems. Therefore, I pray for them and I ask the Lord to help them and guide them on the right path.
WHAT ELSE WOULD YOU LIKE TO SHARE WITH US?
I am very happily married to a Christian man. We are blessed with 3 wonderful boys, 2 wonderful daughter-in-laws, and currently with 2 wonderful grandchildren (1-boy and 1-girl). We love our family very much!!! I taught children's Sunday school at my church for a few years. The children were so amazing. They were like little sponges.
Thank you BCMM for picking me as designer of the week. I am very humbled by this. There are so many wonderfully, talented people on eBay. I am very thankful to be among each and everyone of you. May the Lord bless each one of us, Deb!!
Posted by

Blondie
at 2:56 AM
No comments:

Monday, March 09, 2009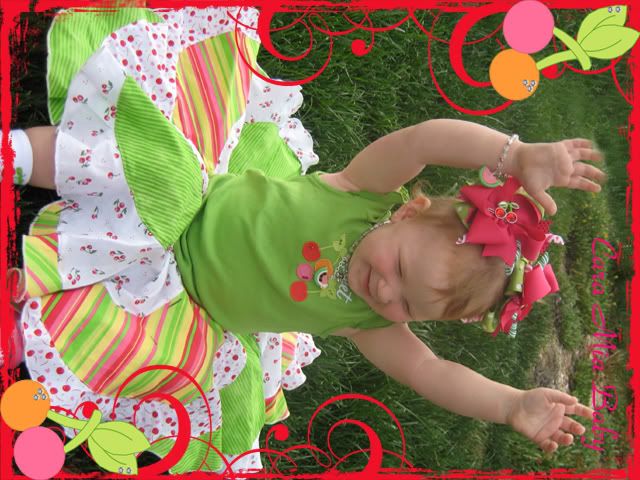 Created To Coordinate Gymbo with a Euro Twist. This Sweet OOAK Cherry Baby Set is to cute to pass up!
ebay id caramiababy_boutique
Posted by

Blondie
at 12:26 AM
No comments:

Posted by

Blondie
at 12:23 AM
No comments:

Sunday, March 08, 2009
Posted by

Blondie
at 9:29 PM
No comments:


This auction is for a 3 piece set. ou will receive a large diaper bag, matching changing pad, and wipe-n-dipe bag with this set. FREE monogramming on all items.
Ebay ID: blueazaleahill -- store: pitter pats purses and things
Posted by

Blondie
at 5:11 PM
No comments:


hand made baby bib made with a fun retro floral prints with pink, purple, and green flowers on a brown background. The bib measures approximately 10"X13", is backed with a soft cotton lavender chenille, and has a snap closure at the neck.
Posted by

Blondie
at 3:49 PM
No comments:

This black lunch bag is very roomy with a zippered pocket in the front. The handles are trimmed with a hot pink polka dot ribbon. Measures 9x6x6. It will be personalized free for you in your choice of font.
Posted by

Blondie
at 3:47 PM
No comments:


This auction is for a WHITE NYLON headband with a DOUBLE STACKED BOW (PINK DOUBLE RUFFLE RIBBON ON BOTTOM, & LIME JUICE DOUBLE RUFFLE RIBBON ON TOP). Bow measures approx. 3.5" across. Perfect for your princess or for a baby shower gift! All my headbands are made in a pet and smoke free home. HEAT SEALED AND/OR FRAY CHECK ADDED TO PREVENT FRAYING
Posted by

Blondie
at 3:43 PM
No comments:

Posted by

Blondie
at 3:41 PM
No comments: